My Tutor, Cari, suggested, in my last feedback, a book by Francoise Tellier-Loumagne, called "The Art of Knitting" as a book to study.
The book has inspirational photographs showing what is possible using knitted techniques. Starting with the basics: knitting is a textile with …"fabrics structured from a series of loops, such as weft knitting and warp knitting".  Weft knitting is formed from a single yarn, linked in courses. Warp knitting is formed by lengthways fibres fitted to a beam (as in weaving). Chains of loops are formed along the length of the fabric and can be linked crosswise using various techniques.
Fine mesh nets; Jacquard layers of different fibres; puckered surfaces; fur effects; ripples, ridges; voids and more, are possible using either hand tools or knitting machines. (There is a Guild of Machine Knitters, whose website has advice on buying knitting machines.)
Examples of ripple variations
Source:- (Tellier-Loumagne, Black, and Black, 2005), p235
This opens up a vast area that I know very little about (I was taught to knit plain and purl stitches by my Mum, and was briefly a member of a 'knitting club' at primary school – my sole output from the latter being a pink and white striped beanie hat, with quite a lot of help from my teacher). However, it may be an area that I return to in the future. In the meantime, prompted by this book recommendation and Rebecca Fairley's article on the OCA website, I decided to take a look at some contemporary practice in knitting in the art world.
Emilie Zanon is the designer behind Capouche: a French company making one of a kind hats, that can be worn in a number of ways. She uses vintage fabrics and trims, sculptural forms and individual embellishments to ensure that each hat or garment is unique, and suited to its owner.
In her Vert de Gris Collection, she made a knitted garment with a strange and unsettling silhouette. Some parts of the garment hide and distort the shape of the body, while in other areas, it is closely fitted and revealing. The over-sized, knitted area on the back resembles pebbles and appears to be made from a fine stretchy tube textile (?stocking material) that has been stuffed and knitted. Knitting needles are part of the piece, giving the impression that the wearer is knitting their own costume. This is a fascinating mixture of textures. I can imagine performance costumes and soft sculptures made using these techniques.
Emilie Zanon, garment from Vert de Gris Collection
Source:- http://www.capouche.com/en/collections/capouche-lab/vert-de-gris/
Australian performance artist, Casey Jenkins' Casting Off My Womb, involved the artist knitting from wool lodged in her vagina for the 28 days of her menstrual cycle. Her blood colours the white wool in places, and is knitted into the work providing a record or journal of her 28 days' knitting and of her menstrual cycle. She describes the process in a YouTube video as "natural and uneventful" and of being "intimate with my own body". Casey draws a link between a warm, fuzzy, "boring" pastime and the negative associations and fears that people have about the female body. I can see that her worst fears about how people react to the female body, and a natural process of the female body, were borne out by the overwhelmingly negative public reaction to the piece. The less of a taboo there is around menstruation, the better, in my opinion, so good for her!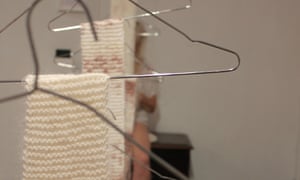 Casey Jenkins, Casting Off My Womb (detail), 2013
Source:- https://www.theguardian.com/commentisfree/2013/dec/17/vaginal-knitting-artist-defence
Freddie Robins is a British artist, who questions the viewer's ideas about the gentle craft of knitting by using her, sometimes humorous, work to explore themes such as violence and fear. She describes her method of making art as an evolving process (rather than working to a pre-conceived design), most recently incorporating samples and found or re-purposed items. In an article for The Guardian by Tamsin Blanchard, her home/'museum' (shared with partner, Ben) is described as being filled with their numerous collections, which have influenced their art work.
Freddie Robins, Collection of Knitted Folk Objects – Pocky, 2014, machine knitted wool, reclaimed knitting needles, 700 × 400 × 120 mm
Source:- http://www.freddierobins.com/blog/archive.php?cat=objects
Isabel Berglunds is a Danish artist who uses knitting to make art such as the installation below, as well as art objects. Members of the public can explore and interact with the work, including garments that you can wear, that are part of the artwork. She seems to have a very imaginative and joyful approach to art, taking knitting from its usual, utilitarian place in the world, and turning it into an unlimited medium to explore different forms, scales, textures and functions.
Isabel Berglunds,  Monument of Stitches – A Social Art Project, 2016 Assembled at Trapholt Museum of Modern Art
Source:- http://www.isabelberglund.dk
The Fries Museum in Leeuwarden, The Netherlands had a recent knitting exhibition that included work by Isabel Berglunds, as well as Sarah Lund's jumper from The Killing!
Wang Lei is a Chinese artist who uses different types of paper to meticulously knit his artworks. He is interested in how history and society changes over time. In the piece below he has used the paper from a Chinese bible to knit a traditional garment. In this way he is questioning the use of the language, culture and tradition, and of how people may forge new identities.
Wang Lei, The Chinese Bible , 2015, Paper Art with Frame, 84 x 8 x 99cm
Source:- http://www.odetoart.com/?p=artwork&a=12499,The%20Chinese%20Bible%20&artist=Wang%20Lei
Magda Sayeg is said to be the first 'yarn-bomber'. Her website explains that she is now exploring new materials, such as lights with knit. She enjoys transforming hard, everyday objects with soft wool, which still allows them to remain functional and recognisable. She works to challenge the limitations of her chosen medium.
Magda Sayeg, knitted/crocheted covered bus in Mexico City
Source:- https://flavorwire.files.wordpress.com/2011/01/yarn_bombing1.jpg
Summary
What can I learn from these artists and designers?
Emilie Zanon – use unexpected materials with traditional techniques. Exaggerate and combine different scales of stitch and forms.
Casey Jenkins – a simple craft can be subverted to ask wider questions of society.
Freddie Robins – use knitting as an artistic medium like any other. The juxtaposition of a craft that is traditionally performed by women, with an important point can add to the meaning of the piece. Be inspired by what interests you.
Isabel Berglunds – 'limited only by your imagination' is a phrase that springs to mind! Large scale and interactive pieces are possible.
Wang Lei – use of unusual and meaningful raw materials. Recreating traditional pieces in new materials.
Magda Sayeg – use wool to transform objects and change the viewer's perception.
References:-
Articles:-
https://www.theguardian.com/commentisfree/2013/dec/17/vaginal-knitting-artist-defence Accessed 18/11/16
https://www.theguardian.com/lifeandstyle/2002/nov/03/shopping.homes Accessed 18/11/16
https://weareoca.com/textiles/traditional-textile-techniques-used-contemporary-ways-part-3-knitting/ Accessed 26/10/16 and 18/11/16
Books:-
Tellier-Loumagne, F., Black, S. and Black, Y. (2005) The art of knitting: Inspirational stitches, textures and surfaces. London: Thames & Hudson.
Websites:- 
http://www.capouche.com/en/ Accessed 18/11/16
http://www.freddierobins.com/ Accessed 18/11/16
http://www.friesmuseum.nl/en/see-and-do/exhibitions/breien/ Accessed 18/11/16
http://giftofknitting.com/friday-inspiration-isabel-berglund/ Accessed 18/11/16
http://www.guild-mach-knit.org.uk/resources/aboutKM.php Accessed 18/11/16
http://www.isabelberglund.dk Accessed 18/11/16
http://www.magdasayeg.com/work Accessed 18/11/16
http://www.odetoart.com/?p=artist&a=2858 Accessed 18/11/16
http://www.yellowtrace.com.au/isabel-berglund-danish-textile-designer/ Accessed 18/11/16